Production of polymer products by a short cycle time, automatized production technology for automotive applications, with exceptional focus on the complexity and recyclability of the composite parts
Project ID:
NVKP_16-1-2016-0046
Supported by:
Nemzeti Kutatási, Fejlesztési és Innovációs Hivatal (NKFIH)
Term:
1 December 2016 - 31 May 2020
Supervisor (BME):
Prof. Dr. Tibor Czigány
Dr. Gábor Szebényi

Participant researchers (BME):
Dr. Bakonyi Péter
Dr. Bárány Tamás
Boros Róbert
Dr. Czél Gergely
Prof. Dr. Czigány Tibor
Dr. Hegedűs Gergely
Prof. Dr. h.c. mult. Karger-Kocsis József
Dr. Kiss Zoltán
Dr. Morlin Bálint
Dr. Pölöskei Kornél
Dr. Tamás-Bényei Péter
Temesi Tamás
Dr. Toldy Andrea
Dr. Suplicz András
Dr. Szabó Ferenc
Dr. Halász István Zoltán
Hambalgó István
Hliva Viktor
Temesi Tamás
Dr. Mezey Zoltán Tamás
Prof. Dr. Czvikovszky Tibor
Prof. Dr. Vas László Mihály
Vermes Brúnó
Ageyeva Tatyana
Sibikin Ilya

Consortium partners (BME):
HD Composite Zrt., Evopro Systems Engineering Kft., Econ Engineering Mérnöki, Szolgáltató Kft., MTA TTK

Project summary
The aims of the project are to develop a T-RTM based polyamid matrix endless fiber reinforced composite production cell for large series production of recyclable parts with good surface quality, the thorough investigation of caprolactame processing, the symulation of processes and material behavior.
Project results
Section 1
1 December 2016 - 31 May 2018
Development of caprolactam processing equipment. Testing of composite material properties for simulation. Development of preforming tester. Investigation of drapability of textiles and pefrormance of preform binders.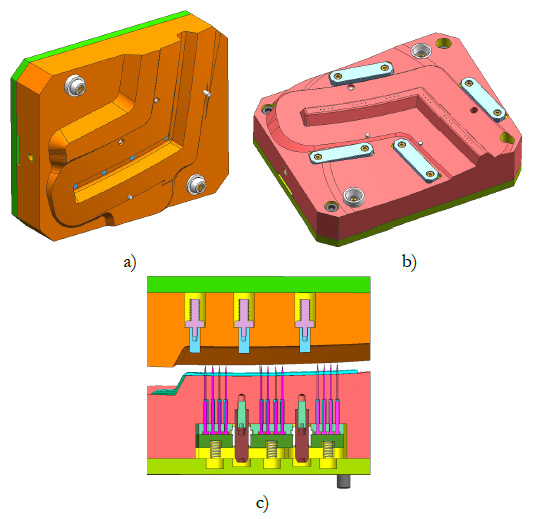 Design of a preforming mould
Section 2
1 June 2018 - 31 May 2019
Design and installation of the T-RTM mould. Design and manufacture of permeability testers with fluid and air medium, permeability testing of different reinforcement materials and preform stacks. Design of overmoulding injection mould. Overmoulding tests on injection moulded and cast polyamide sheets, testing of injection moulding parameters on joint strength. Development of additive compositions for class-A surface.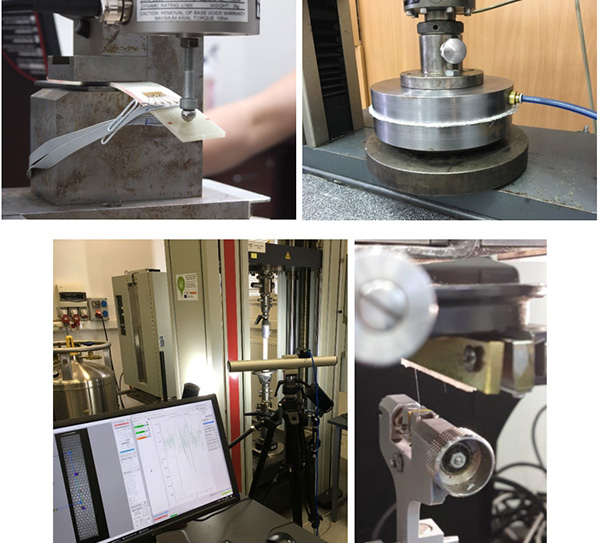 Test setups of the performed tests
Section 3
1 June 2019 - 31 May 2020
In the third work period the following tasks were carried out at BME: Literature survey in the field of permeability of reinforcing structures, surface coatings, overmoulding and joining technologies. Investigation of the effects of additives for use in surface coatings. Casting tests. Creation and characterization of in-mould surface coatings. Knowledge and technology transfer. Permeability testing with air and liquid, setting up the correlations. Development of in-mold coating technology. Overmoulding, optimization of the contact of the overmoulded parts and the carrier, investigation of the effect of technological parameters. Development of joining and final machining technologies. As the final result of the project the first automatized T-RTM production line of Hungary was created. The technology is able to create novel, resistant in mould coatings in the same step as the production of the composite base structure.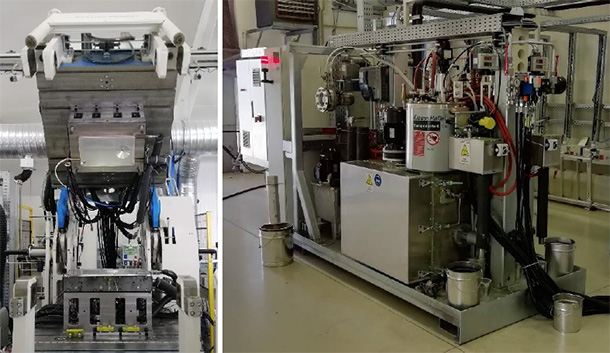 The developed T-RTM production line (T-RTM press with the designed mould - left side, T-RTM dosing unit - right side)
Project-related publications
© 2014 BME Department of Polymer Engineering - Created by: Dr. Romhány Gábor