Project ID:
2019-1.1.1-PIACI-KFI-2019-00205
Supported by:
Nemzeti Kutatási, Fejlesztési és Innovációs Hivatal (NKFIH)
Term:
1 April 2020 - 31 Marc 2024
Supervisor (BME):
Dr. József Gábor Kovács
Dr. András Suplicz

Participant researchers (BME):
Dr. Kovács József Gábor
Dr. Suplicz András

Consortium partners (BME):
ICO Zrt. (Konzorciumvezető)
Project results
Section 1
1 April 2020 - 31 Marc 2021
During the reporting period, we conducted a comprehensive literature search at the BME Department of Polymer Engineering to establish our knowledge in the field of polyethylene terephthalate and biopolymers. For both, we explored their main properties and their modification potentials. More extensive research has been carried out in the field of polylactic acid (PLA) as a potential raw material for our developments. The literature research has identified the main processes and additives that can modify the morphological and mechanical properties (HDT, crystallinity, modulus, impact properties) of polylactic acid according to the defined list of requirements. In our experiments, we focused on increasing the crystallinity, impact work and HDT (heat distortion temperature) of PLA. One possible method to increase the crystallinity is the use of nucleating agents (talc or Ecopromote). Still, due to the intensive cooling typically used in injection moulding, the increase achieved is not sufficient to significantly increase the HDT. Thus, in addition to the nucleation, the product must be crystallised in the mould or subsequently at elevated temperatures. This method also allows a significant increase in heat retention. Increasing the crystalline fraction increases the HDT and the impact work, and the modulus of elasticity. Furthermore, it has been shown that toughening additives alone only slightly improve the impact work of PLA, in which case a post-heat treatment at 90°C is also required. In addition to the material development, we have also prepared CAD models of two existing injection moulding tools and the products manufactured with them, which were used to build simulation models for the analysis of the injection moulding processes. We also optimized the geometry of a polymer spring for use in pens by finite element simulation for the original PP and biodegradable PLA material.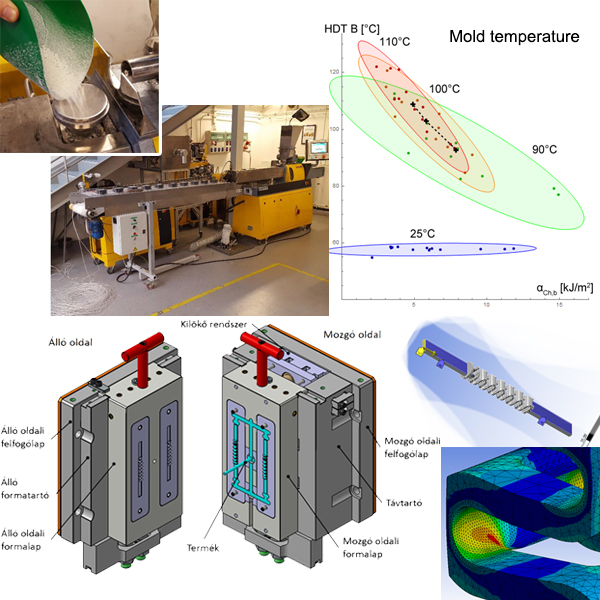 Material and product development
Section 2
1 April 2021 - 31 Marc 2022
Section 3
1 April 2022 - 31 Marc 2023
Section 4
1 April 2023 - 31 Marc 2024
Project-related publications
© 2014 BME Department of Polymer Engineering - Created by: Dr. Romhány Gábor