New concept for upgrading recycling of multicomponent packaging wastes and formation of product of high market value
Project ID:
2018-1.3.1-VKE-2018-00017
Supported by:
Nemzeti Kutatási, Fejlesztési és Innovációs Hivatal (NKFIH)
Term:
1 Marc 2019 - 28 February 2022
Supervisor (BME):
Dr. Kornél Pölöskei

Participant researchers (BME):
Dr. Bárány Tamás
Dr. Kmetty Ákos
Dr. Pölöskei Kornél
Dr. Tábi Tamás
Gere Dániel
Bordácsné Dr. Bocz Katalin
Vadas Dániel
Dr. Bodzay Brigitta
Dr. Szolnoki Beáta

Consortium partners (BME):
Pro-Form Kft. (konzorciumvezető)
Project summary
The project focuses on the polyolefins (PE,PP), which are the most widely used polymers in the packaging industry market. Most of the one-way PE packaging materials and thermoformed PET blisters, trays, boxes are deposited without any selection. Furthermore the industrial waste of multilayer thermoformed PET represent considerable secondary PET source. The use of this kind of secondary materials is hindered by application- and processing-technology barriers, thus great need exists for technology development leading to economic value preservation on one side and effective value increase on the other. The main aim of the research is to find new field of application for secondary PET wastes of lower value. These can be used for logistic trays (used by almost all industries) if special combination of properties can be set. These are currently produced from more expensive materials due to brittleness of PET. Products of good quality will be achieved in single production step by applying compounding units of optimized combination setting optimized parameters of production and wide-slit tool of best specification. Thus the granulation production phase can be waved and the thermoformed elements can be produced directly when the special twin screw extruder is applied. As a result the degradation, lowering the product quality, can be suppressed. The product, called recycled PET direct blend (RPET-DB), will be commercialized in the forms of flame retarded sheets/films/3D objects depending on the market demand. The expected success of the product can act as a model for the innovation of the utilization of other wastes. The aims will be realized along the run of the project by utilizing the methods of applied materials science and materials technology including application of multifunctional materials and considering cost efficiency. Metal ions of the metal-coated PET, acting as multifunctional component, will play a role in both the compatibilization and flame retardancy, furthermore, phosphoric acid esters ensure not only efficient flame retardancy but also make the product antistatic.
Project results
Section 1
1 Marc 2019 - 29 February 2020
We carried out a literature review of the raw materials related to the call for proposals, their recycling, and the processing technologies, as well as the methods suitable for their examination, which greatly helped the process of selecting the raw materials and the experiments performed. We conducted exploratory market research to identify those market segments and participants to whom we can provide marketable packaging products based on their preliminary expectations as a result of the development. Laboratory equipment suitable for testing secondary raw materials and films made from them, as well as a twin-screw flat film coextruder line suitable for extruding film from raw materials, and a radiant heated air-forming machine capable of producing samples and prototypes formed from films have been procured. Reference extrusion and molding experiments were performed. The basic and auxiliary materials were procured and their physical and chemical characterization was performed. We performed a complex analysis of PET and PE waste from several sources, as well as an additive (flame retardant). We have prepared state-of-the-art literature summaries on the production, properties, recycling, and antistatic, hardening, compatibilization, and flame retardancy capabilities of PET. Test samples were prepared by injection molding and sheet extrusion to modify the properties of recycled PET and PET / PE associated systems to meet special needs. Primarily for cost-effectiveness reasons, we always sought to use minimal additives in the value-adding modifications. As a completely new approach, we also used waste fractions in a targeted way, as a reactive component, and with multifunctional additives (eg flame retardant and amplifier, colorant and antistatic agent) we achieved multi-layered property improvement. With the help of the performed various material structure studies, we explored the interactions between the components and their property-modifying effect.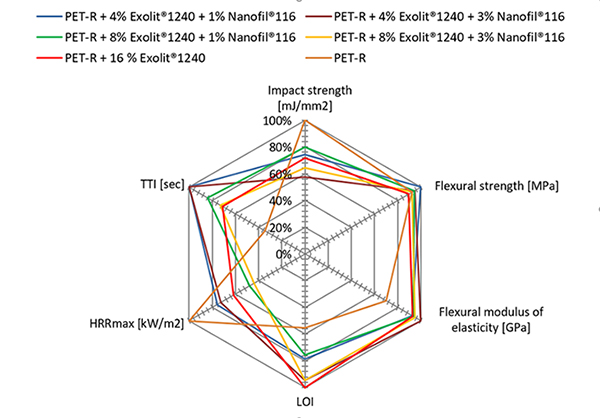 Comparative diagram of key physical parameters of V-0 rated recycled materials
Section 2
1 Marc 2020 - 28 February 2021
During the milestone, the most favorable value-adding additive combinations (compatibilizers, antistatic agents, flame retardants, impact strengths) were selected based on the requirements of the product groups explored by Pro-Form Ltd. We were the first to recognize that highly degraded rPET fractions are able to form a special short-chain boundary layer around the particles of a reactive additive dispersed in the polymer matrix, which can multiply the improvement in product properties. Utilizing the invention, we were able to achieve improvements in flame retardancy and mechanical properties at the same time; We achieved a 50% reduction in heat emissions with a 40% increase in impact strength using an exceptionally high recycled raw material of over 60%. The homogenization, increase of value (flame retardancy and increase of impact strength) of the multicomponent polymer waste and the production of the final product were realized in a single integrated production process. In the case of technology based on the use of a significant amount of secondary raw materials, we plan to guarantee constant product quality with a camera monitoring system installed on the production line, the sensitivity and applicability of which have already been successfully demonstrated in semi-operational conditions.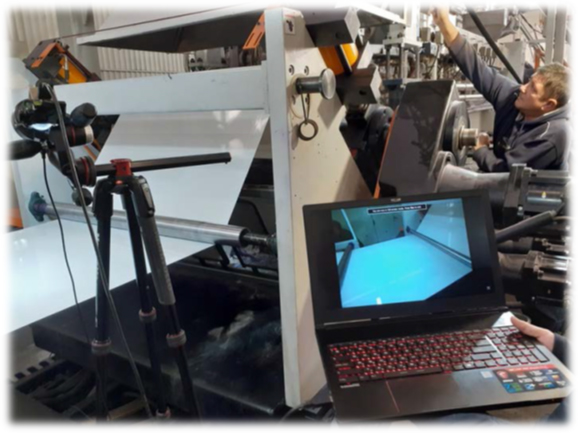 Quality control of products manufactured under industrial conditions developed during the project
Section 3
1 Marc 2021 - 28 February 2022
Section 4
1 Marc 2022 - 31 August 2022
Project-related publications
© 2014 BME Department of Polymer Engineering - Created by: Dr. Romhány Gábor