Hybrid Fibre-reinforced composites: achieving Synergetic effects through microstructural design and advanced simulation tools
Project ID:
765881-HyFiSyn-H2020-MSCA-ITN-2017
Supported by:
Európai Bizottság
Term:
1 October 2018 - 30 September 2021
Supervisor (BME):
Dr. Gergely Czél
Consortium partners (BME):
Katholieke Universiteit Leuven Belgium
ECOLE POLYTECHNIQUE FEDERALE DE LAUSANNE Switzerland
NORTH THIN PLY TECHNOLOGY SARL Switzerland
University of Vienna, Austria
THE UNIVERSITY OF NOTTINGHAM United Kingdom
DANMARKS TEKNISKE UNIVERSITET Denmark
IMPERIAL COLLEGE OF SCIENCE TECHNOLOGY AND MEDICINE United Kingdom
Project results
Section 1
1 October 2018 - 30 September 2021
The key target was to extend the scope of pseudo-ductile composites with the application of standard thickness carbon fibre /epoxy plies together with glass fibre /epoxy. To get fragmentation and pseudo-dcutile failure in standard thickness interlayer hybrid composites, the interlaminar fracture toughness has to be improved significantly. To do so, we applied extra matrix material locally at the layer interfaces in the form of epoxy films, but we could only get 2 out of 6 specimens with pseudo-ductile failure. Thermoplastic acrylonitrile butadiene styrene (ABS) polymer films also did not improve the failure behaviour significantly. On the other hand, electrospun nanofobrous layers made at University of Liberec led us to a break-trough by an almost two-fold increase of mode II interlaminar fracture toughness and a transition from delamination to fragmentation and stable delamination type failure mode. Outstanding results were also achieved by using PA12 interleaves at the layer interfaces. The increase in interlaminar fracture toughness was almost three-fold and stable pseudo-ductile failure mode was achieved.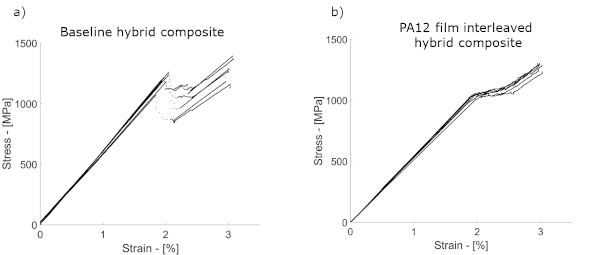 Catastrophic failure to pseudo-ductility transition due to interleaving in hybrid composites
Section 2
00 00 0000 - 00 00 0000
Project-related publications
© 2014 BME Department of Polymer Engineering - Created by: Dr. Romhány Gábor