Dr. László Meiszel awarded the Industrial Professor title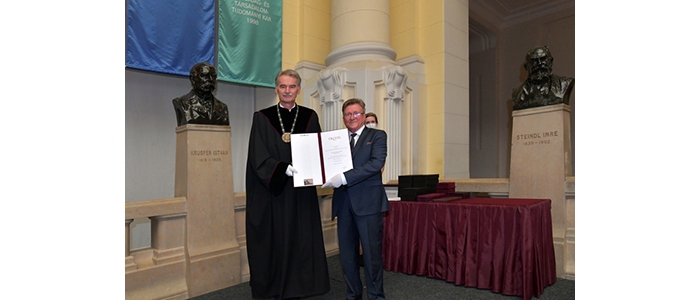 Dr. László Meiszel, who has been supporting the work of our department for many years, has been awarded the Industrial Professor title. Dr. Meiszel was nominated by Imre Orbulov, Dean of the Faculty of Mechanical Engineering, while the diploma was handed over by Rector János Józsa. The board voted to give this title to only one person this year.
László Meiszel has achieved many research, development and innovation results in the Hungarian plastics, textile and composite industries, participated in the elaboration and industrial introduction of more than 20 patents, for which he received the Outstanding Inventor Award twice. In 2016, he received the Gábor Dénes (Dennis Gabor) Award. He has been cooperating closely with BME for decades, professionally supporting both university education and research, as well as doctoral training.
Congratulations on the prestigious recognition!
Further information
© 2014 BME Department of Polymer Engineering - Created by: Dr. Romhány Gábor